Uncle Al is a friendly goof and the first guest to ever appear in the very first Wedding Dash.
History
Wedding Dash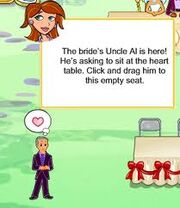 In his first appearance Uncle Al is the starting character for the tutorial of Wedding Dash, he is the uncle of the Groom, eats fast and is very patient. Once he goes to the dance floor he will begin doing an incredibly hilarious chicken dance style. Al is moderatly popular with the other guests. He is replaced with Uncle Charles in
Wedding Dash 2
.
Parking Dash
In Parking Dash, Uncle Al is introduced in the 2nd parking lot called the Wedding Chapel. Al is a very patient customer who tips very high, making him one of the best customers of the game. His car is described as nice and expensive.
Garden Dash
In Garden Dash, Uncle Al (or at least another guy who looks exactly like him with brown hair) is shown as a Big Corp employee, he can be see staring at Barb who is frantic around her cubicle, he also takes part in Barb's garden on the roof of Big Corp.
Appearance
Al wears a full darkly purple overall suit with a light purple shirt and violet tie, he has tanned skin like other guests, greyish hair and black shoes. In Parking Dash his skin is white. His nose and eyes are big and his eyebrows are short and small.
Personality
Al has been described as a lovable, goofy man that is mildly popular with everyone, although much more is not known about him due to his scarce appearances, he can be seen as a vey friendly guy that can wait on a regular basis and enjoys entertainment.