The Train is the second restaurant of Flo on the Go. It is a bar on one of the train carriages and is constantly on the move.
History

After
Flo
and
Darla
finished up on the
Cruiseship
, they decided to head to the grand central station and go on a Train, Flo left her new suitcase on the taxi, and was immediately depressed as a result. Seeing the poor management on the train, Flo & Darla decided to help out like on the cruiser. Finishing up the ride, Flo and Darla departed, and saw an ad for a
Submarine
ride...
Appearance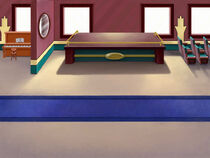 As a train, the restaurant is sideways, with the shelves, counter and kitchen on one side of the wall. The train is surpisingly enormous compared to Flo and the customers, there is also a pair of passenger seats near the corner along with a piano. As Flo & Darla go along, they can pick more scenic upgrades.
Employment
Flo - Waitress and Pianist
Darla - Chef
Hostess - Podium Hostess
Busboy - Cleaner
Drink Server - Drinks
Understaffed Waiters - Waiters
Gallery