Toshiro's Japanese Grill is a Japanese-themed restaurant owned by Toshiro.
History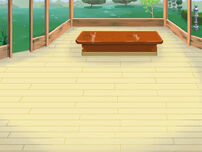 Built and managed by the charming Toshiro, he rented the land underneath the grill from
Mr. Big
, who eventually decided to try and shut down Toshiro and his friends of their restaurants. Eventually,
Flo
came to the rescue and with Toshiro's help, remade and saved the Japanese grill from Mr. Big, who was planning to use the land as a last resort skyscraper for his food court plans.
In Cooking Dash, Flo & Florence temporarily manage the grill while Toshiro is with Cookie.
DinerTown Tycoon
In DinerTown Tycoon, the grill is located in Bistro Bay and is an purchasable restaurant. The food served in the restaurant are Veggie Tempura Platter, Chilled Prawn Sorbet, Sakura Roll, Dinertown Toll, Dragon Spawn Makizushi, Sea Goblin Gyoza, Toshiro's Teriyaki and Ichiban Udon. 
Appearance
On the exterior, the restaurant looks like a two-story Japanese temple with green roofing. On the inside, the restaurant is large and peaceful, as Flo goes along with Toshiro in upgrading the grill, the installments will have a Japanese festival feel with a fountain and cherry blossom tree outside.
Unique in this restaurant is the counter bar that can seat any number of customers. However, families should be avoided to be seated there as the high chair is not able to be moved there.
Employment
Toshiro - Manager, Chef, Waiter
Flo - Waitress, Temporary Manager
Grandma Florence - Chef
Busboy - Cleaner
Drink Server - Drinks
Hostess
Karaoke Man - Entertainment
Gallery