Tony's Pizzeria is the second restaurant of Diner Dash 2 and managed by Tony. In many different Dash-series games it is also called "Tony's Ristoranté."
History
First appearing in Diner Dash 2, Tony's Pizzeria was under threat of being bulldozed by the grumpy Mr. Big. With Flo's help, Tony's Pizzeria was able to stay after paying off Mr. Big's rent due.
In
Cooking Dash
, Tony's Ristoranté appears as the 3rd restaurant of the game where Flo & Grandma Florence managed for Tony while he's on Cookie's cooking show, the restaurant introduces the Hippies and Bodybuilder customers, and most of the food and decor is Italian-themed.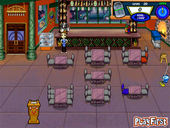 DinerTown Tycoon
DinerTown Tycoon, Tony's Ristoranté is the default restaurant accessed in Thyme Square. Dishes served are: Tomato Risotto, Fettuccine a la Tony, Tomato & Potato Gnocchi, Potato Pizza, Creamy Cheese Risotto, Rice Pudding Cannoli, Tony's Homemade Lasagna, Cheese and Potato Wild Rice Soup.
Appearance
On the exterior, the restaurant has red checker-tiled roof with red entrance shading and light blue supporting pillars, there are also grilled windows on the side.
While the restaurant is always Italian themed; the decor can be changed cosmetically in Diner Dash 2, common denominators are the purple flooring, wine shelves and the Italian themed decor.
Employment
Tony - Manager, Chef
Flo - Temporary Waitress, Temporary Manager and Chef
Grandma Florence - Chef
Unknown Female employee - Chef
Gallery