The Submarine is the 3rd restaurant of Flo on the Go, it is underwater and has a constant view of sea life.
History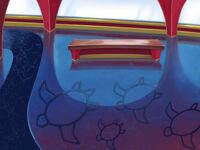 After
Flo
and
Darla
had their fill on the
Train
, they decided to hitch an undersea

adventure on a Submarine, however, the bag boys on the train mixed up the luggage, and Flo's suitcase was off on the railways. Bummed once again, the headed for the restaurant to grab some grub, and for the third time, they saw the under managed staff. Flo and Darla decided to help once again. They also enjoyed the sea experience. When they finished, they headed for a
Blimp
on takeoff.
Appearance

As a submarine, the decoration and restaurant supply is that of marine life and

water-elements. In the restaurant, the floor is dark blue with several scribbling of turtle outlines. The decor upgrades can be used to make the place more fancy or ocean-related. On the outside the submarine is golden and extremely huge, with several floors and an enormous scope.
Employment
Flo - Waitress
Darla - Chef
Hostess - Podium Hostess
Busboy - Cleaner
Drink Server - Drinks
Mermaiden Harpist - Entertainment