Safari Café at the Zoo is the first restaurant of Diner Dash Hometown Hero.
History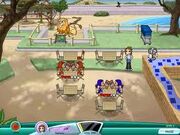 Flo & Grandma Florence's first stop to vacationing in their hometown was the zoo, but Flo saw how bad the future changed her home's attraction as the funding was cut. Stopping by the restaurant to eat, they decided to bring back life into the zoo using their champion skills. After completing their time at the zoo, they were honored by the lone staff member for their efforts and drove away to catch the baseball game.
Appearance
The restaurant is in a section of the zoo's pathway, across from it are several animal exhibits and another path where people walk, the zoo can be upgraded that it will even feature a new animal, there is a nearby lion that will roar at the customers.
Employment
Flo - Waitress
Grandma Florence - Chef
Versus Waiter - Waiter/Waitress
Lone Zoo Staff Man - Waiter
Gallery