The
Rocketship
is the final restaurant of
Flo on the Go
. It travels through space and sleeps underneath the sea in a crescent island seen from the
Cruiseship
.
History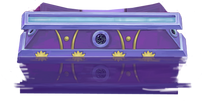 After soaring the skies of DinerTown's edge,
Flo
and
Darla
dropped down on the
Blimp
return pad, where they

were soon greeted by the captain of the
Cruiseship
, who revealed he owned all the vacation vehicles they were on, and was shocked by their amazing abilities that he wanted to hire them for his newest plan, the Rocketship! After completing 10 messy, long intergalactic shifts in space, Flo and Darla requested some real vacation time in the rocket's zero-gravity play room, where they were finally able to enjoy their vacation.
Appearance

The rocket is a tower beauty of metal and mechanics, the insides are incredibly large, and
one wing is dedicated to the restaurant of the rocket. There is also a zero-gravity playroom. On the outside the rocket looks like a typical tube rocket with sharp edges and a pole on the roofing, it stands on an elevation pad in the middle of a crescent island. As Flo & Darla go along, they can buy upgrades themed to the rocket.
Flo has a robot that can help her take up to four items at a time. All the customers are teleported to the restaurant.
Employment
Flo - Waitress
Darla - Cook
Busboy - Cleaner
Drink Server - Drinks
Alien Horn Player - Entertainment