Margarita's Cantina
is the restaurant owned by
Margarita
, it is fiesta themed.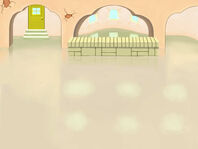 History
In
Diner Dash 2: Restaurant Rescue
Built and owned by Margarita, she used a plot of land by rented from Mr.

Big, eventually, Mr. Big sought to push out Margarita & her friends from their restaurants and use the space for his food court.
Flo
appeared and rescued them, starting with
Darla
and then
Tony
, Flo ran to help Margarita building her restaurant's success and decoration, Flo was able to save the cantina.
DinerTown Tycoon
In DinerTown Tycoon, the Cantina is found in Avenue Flo and is a purchasable restaurant. The food served in this game are Citrus Corn Pudding, Carne Asada Picante, Sopa de Pescado, Spicy Fish Fajitas, Cantina Quesadilla, Big Mouth Burrito and Fiery Chicken Taco 
Appearance
On the outside, the cantina appears like a typical Mexican restaurant, there are several cacti on the grounds. In the interior, the cantina's appearance changed with Flo's involvement, several fiesta decorations were placed around the restaurant. The counter for orders is near the door along with the kitchen.
Employment
Margarita - Manager, Chef, Waitress
Flo - Waitress
Busboy - Cleaner
Drink Server - Drinks
Mariache Band - Entertainment
Gallery