Jane is a popular female guest of Wedding Dash 2.
History
Wedding Dash 2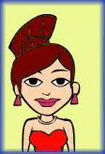 Jane is introduced in the Amazon Jungle Venue, she replaces Chloe as the sexy, single woman whom everyone (especially the men) love and is the cousin of the Bride. It is generally advised to sit her in non-edge seats because people want to sit next to her. She is extremely popular, eats at a medium and is moderately patient.
DinerTown Tycoon
In DinerTown Tycoon, Jane appears in the Thyme Square district, she will eat meals with Serrano Chili, Eggplant and Saffron and rewards the player with a new advertisement for hire.
Appearance
Jane has a slim figure and tanned skin, she has gorgeous black hair constricted into a roman hairstyle. In Wedding Dash 2 Jane wears a ruby dress with a golden waist sash and black high heels.
In DinerTown Tycoon her hair is dyed red to match her dress, she now wears a white necklace and pink triangular earrings. Her skin is now whiter and her shoes are red.
Personality
Jane is a very friendly woman who is single and gorgeous, and doesn't flaunt around her popularity, she also appears to be wealthy, since her clothes and her residence at Thyme Square are both expensive.