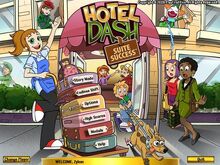 Hotel Dash - Suite Success is a time management game released on July 2010. This game is centered around Flo and Quinn trying to run hotels. The sequel Hotel Dash 2: Lost Luxuries is released on July 2011.
In this game, Flo's newest predicament is to restore the charm of DinerTown's favorite hotels. Show guests to their room and deliver their luggage. Drop off room service, provide extra towels, blankets and anything else they may need to leave big tips.
It is one of the games that make up the Dash saga.
Story
Flo assists Quinn in revamping five rundown hotels for her clients. However, there is a mysterious woman sneaking about the hotels and sabotaging them. The two friends tend to each hotel's quirky customers as they try to find out the identity of the mystery woman.
Gameplay
This game keeps the essential dash elements such as color bonuses and chaining. Every customer (excluding the ghost) will always request meal service. However, each customer has unique requests as well. For example, Lovebirds and Teenagers will always ask for extra pillows and Hal will always order meal service twice. Flo must tend to each customer's request if she wishes to keep them happy. The happier a customer, the higher the tips. As more money is earned from each shift, the player can buy various upgrades to help Flo move around the hotel faster, carry more items, improve customers' patience, and so on. A mysterious woman may appear in the hotel and will try and sabotage a part of the hotel, such as cutting off the power or setting off a fire alarm. The player must send Quinn to avert the disaster.
Customer types
(Everyone tips about the same in Hotel Dash. Tip amount ranges depending on how many customers occupy a room.)
Young Lady: Moderately patient, has a chance of making a spill in her room.
Lovebirds:  Very patient, asks for extra pillows.
Hungry man: Moderately patient, orders meal service twice.
Clown: Very patient, may cause a spill while walking in the halls.
Sleepwalker: Moderately patient, his sleepwalking can annoy guests, click him to wake him up.
Teenager: Moderately patient, noisy, asks for extra pillows.
Celebrity (and his bodyguards): Moderately patient, orders meal service twice and asks for extra pillows, his bodyguards will block the hall until their current request is met.
Jogger: Moderately patient, asks for towels.
Dog lover: Impatient, the dog annoys other guests
Tourists:Normal patience, always are taking photographs
Fashion woman: Bring 3 luggages, ask pillows and very good tip
Ghost: Ghosts don't eat, but ask for towels and scare other guests