Flo's Lounge (formerly the Big Co. Lounge), is the fifth and final restaurant of Diner Dash 2.
History
After Mr. Big's plan for the mega multiplex food plaza failed he was within minutes of giving up and retiring, however, Flo came to stop Mr. Big and convinced him to open the Big Corp Lounge up into a fancy restaurant. Finishing the night wth a bang Flo was able to open Mr. Big's eyes to the world of restaurants. Currently, it is unknown if the lounge is still up.
Appearance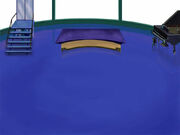 As a restaurant up on the rotating skydeck of Big Corp, the general theme of the lounge is that of a fancy restaurant, as Flo & Mr. Big continue, the lounge will receive more upgrades and decorations becoming one of the fanciest places in town.
Patrons of this restaurant are all dressed in formal wear.
Employment
Flo - Waitress, Temporary Manager.
Mr. Big - Waiter, Manager
Busboy - Cleaner
Drink Server - Drinks
Pianist - Entertainment
Gallery