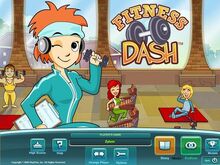 Fitness Dash is a game from the Dash series developed by Sarbakan Studios. It was released in 2008. In this game Jo the Jogger will be running fitness centers across the Diner Dash universe.
Story
Jo and Quinn were jogging around DinerTown preparing for the Sports Olympiad when she noticed her teammates having a feast in Flo's Diner. They are not worried about the competition as they have won every year against Donutville. However, during the tug-of-war competition they were easily beaten by the rival team. Jo then came up with the idea of having a fitness center in Dinertown to prepare for the competition next year. The residents of DinerTown were excited about the idea. Flo even lightened up the menu to help everyone in Dinertown keep in shape.
Starting with the regional competition against the Puddington Chocolatiers, Jo opened a brick gym that is used for boxing to train the athletes. Later on, more residents of Dinertown joined the team and Jo moved to the cruise ship when they competed against Muffinburg. After winning the Muffinburg regionals, they move to the rooftop and compete against Candyland.
Customer Types
Trivia
There's a glitch that can occur during the game which can cause Jo to run off-screen or freeze up entirely. This mishap usually occurs if the player is trying to do many activities at once, setting down several checkmarks onscreen. Unfortunately this will make the level unbeatable, forcing the player to restart.
Gallery