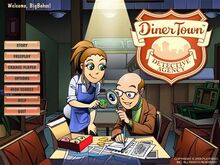 DinerTown Detective Agency is a puzzle and object search game centered around characters in Dinertown. It is released on July 27, 2009. The game features Bernie the Bookworm who recently discovered a detective kit, and by teaming up with Flo decides to solve the mysteries that happen in the town.
Characters in various Diner Dash series return to be either suspects or informants in each case.
Gameplay
Players are free to select the venues in Dinertown where a case occurred. Once selected, one character will briefly describe the crime. Each case are divided into three stages. Searching the crime scene, narrowing the suspects and identifying the culprit.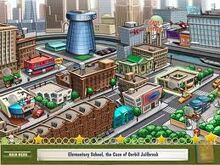 Searching the Crime Scene
The first stage is the object search portion of the game. Players are to search the items listed in the crime scene. Occasionally the objects are split into segments and each segments are to be found to function properly. Some of the items are required to be fitted into some of the objects to unlock more hidden objects. Six of the items found lead to clues to the suspects.
Occasionally, a mini game will appear to unlock a clue for the case.
Narrowing the Suspects
The next stage involves a puzzle to rule out some of the suspects of the case. They are either in a form of jigsaw puzzles, matching fingerprints or image sorting. Three suspects of the case will be selected after this stage.
ID the Culprit
Lastly, players are to find the culprit based on the clues found. There is a list of informants giving out statements about the suspects and players have to determined whether the statement matches the description of the suspects. One culprit will be chosen and the case is solved. The case ends with the culprit explaining his or her motive for the crime.
Gallery