Darla's Café is a quiet lush cafe owned by Darla in DinerTown.
History

Owned and constructed by Darla, her
Café
is where many people come to eat her food.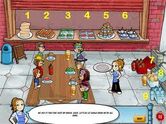 In Diner Dash 2: Restaurant Rescue, the land that the cafe is on is rented from Mr. Big, who decided to raise the rent price of her & her friend's businesses in an attempt to shut them down and build a food court over. Flo came to their rescue, starting with Darla, she began working the tables and helping her out, eventually paying off Mr. Big of everyone's restaurants.
In Avenue Flo Special Delivery, Flo helps Darla out with waiting tables so she will crisp some jagged dollar bills using her cheesing iron.
In Cooking Dash, Flo and Grandma run the restaurant while Darla is on a Cookie's cooking show.
Darla runs her café and fights to push Grub Burger out of Squid Row. In this game, her cafe is named "Darla's Sidewalk Cafe".
The food served in the cafe are Bermuda Onion Rings, Sunshine Breakfast, Squid Row Cheese Steak, Squid Cheese Sandwiches and Free Range Roast Beef Sandwich. 
Appearance

Darla's Cafe
is a two-story cube shaped building with red colored bricks, there is also a blue shade hanger and several tables with umbrellas near the entrance, the restaurant's service only goes outside, while the inside is stocked with various supplies used for food and drinks. In Diner Dash and
DinerTown Tycoon
, the restaurant is upgraded and renovated.
Gallery