Cookie
is the chef for
DinerTown
's most famous eatery,
Flo's Diner
.
Biography
Diner Dash
Cookie was shown to be the mysterious silhouetted chef of Flo's diner, but at this point, he had no name. Until Diner Dash 2: Restaurant Rescue, he is revealed and given a name and appeared in the cut scenes.
Flo and Cookie arrive to have fun at a water park, but Cookie himself will get wet even in the heat. Seeing the burning up chef, Flo bargains with Cookie that she will find him a cool spot to cool off if they serve the tourists of the water park. After finishing their shift, Cookie goes on the water slide and is able to enjoy his time in the summer.
DinerTown Serv-a-round
When Flo and Cookie witnessed the diner being smashed to bits by a tsunami of hungry people, Flo resolved to serve people on a mobile diner, with Cookie's help, they went around the town, through the adventure, Cookie was unenthusiastic after several disasters happening to them, but Flo kept his spirits high. When the diner was rebuilt, Flo and Cookie handled another wave of customers and won out over Mr. Big.
Cooking Show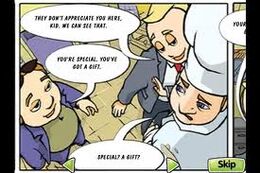 In
Cooking Dash
, the biggest life change happened to Cookie. Two Hollywood producers arrive at the diner to have lunch. When they spot Cookie making them some grub, they decide to turn him into a star. After giving him their business card, Cookie is torn between becoming famous and staying in his true home with
his
family
. When Flo sends Cookie off on a vacation, with her and Florence handling the cooking for the diner, Cookie sadly goes on his way. As Flo &
Grandma
come closer and closer to the end of their adventure, they become new guests on Cookie's show and Cookie decides to quit and comes home to the diner.
Other Appearances
Cookie also made numerous appearances in other games when it is set in Flo's Diner, namely Avenue Flo series, DinerTown Tycoon and DinerTown Detective Agency.
Personality

As a France-born chef, Cookie enjoys making many French based meals, but will always satisfy the American
DinerTown
with delicious American meals such as burgers, hotdogs and anything brainstormed by Flo. He is also a very friendly person and will give advice when asked for it. He is often in the kitchen of the diner but will always come out when needed. In
Cooking Dash
, Cookie was saddened when Hollywood producers gave him a choice of staying where he loved or making it big on his own cooking show. Cookie's real home will always be Flo's Diner and considers Flo and everyone his family.
Appearance

In his childhood years, Cookie wore a vanilla white uniform with a dark blue tie, a dark blue small cooking hat with gold outlining and blue shoes with white heels. He also wore a white apron and his brown hair was neatly brushed. He was born with blue eyes and light brown hair.
In his adult years, he now wears a white toque and wears a full body chef uniform colored white. His hair often changes length and position in his appearances. In Avenue Flo, his hair is dark red colored.
Cookie's 2014 reboot version is outstandingly different, giving him brown hair and matching brown eyes.
Relationships
With Flo
Cookie considers Flo to be his surrogate partner, he will often back her up and help her out when she needs help and vice versa. Flo is Cookie's biggest friendship and the 2 always work together very well when paired. Cookie cares deeply for Flo. It is implied he fancies her.
With Darla
As Darla is also a chef, Cookie can relate to her, and in Cooking Dash, he invites Darla to guest host on his show while Flo and Grandma run her Cafe.
With Grandma
Grandma often cares and looks out for Cookie, and he considers her an elderly mother, she is often on the cleaning end of his recipe disasters but is always there to bail him out with love.
Trivia
Gallery
Incarnations
Screenshots