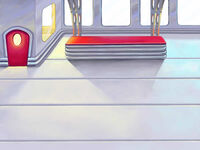 The
Blimp
is the penultimate restaurant of
Flo on the Go
and is set high in the skies above DinerTown.
History
After
Flo
and
Darla's
20,000 leagues under the sea adventure, they decided

to hitch a ride on a blimp, while boarding, Flo's suitcase lock broke and all her clothes blew away. Glum for the 4th time, Flo and Darla saw the under managed staff at the Blimp's diner. Promising to help out Flo one more time, Darla then made her way to the kitchen.
Appearance
The restaurant in the blimp is that of 50s diner, the music, atmosphere and decoration are tuned to the styles of the 1950s. People enter from a red door to the left and the counter & kitchen are in the back. The blimp has a lovely view of the peaceful white clouds. One notable decoration upgrade is a golden framed picture of Flo.
Employment